Aashi Cards
by Bhawna Kiroula
(Kota Rajasthan, India)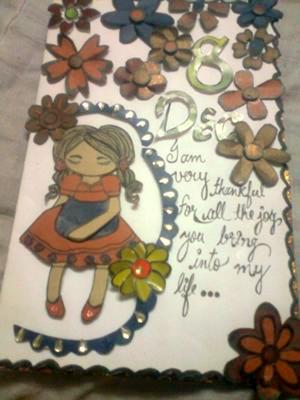 WHAT I WANT TO SAY TO YOU
A Handmade Card for My Love
I MADE IT FOR MY LOVE.


I USED HAND MADE SHEETS FEVICOL/GUM (ADHESIVES), THERMACOL (POLYSTYRENE OR MOUNTING TAPE), SCISSORS AND BLACK MARKER.
PROCESS:
1.FIRST CUT PLAIN HAND MADE SHEET IN A DESIRE SHAPE THEN CUT SOME DESIGNS SUCH AS FLOWERS, HEARTS OR ANY CARTOON PICTURE.
2.DO UNDERLINE ALL THE SHAPE CUTTINGS FOR THE CLEAR SEEN CUTTINGS AND FOR EMPHASIS.
3.PASTE A PIECE OF THERMACOL (POLYSTYRENE OR MOUNTING TAPE) UNDER YOUR CARTOON PHOTO OR SHAPE CUTTINGS THAN PASTE IT ON THE BASE SHEET OR CARD (SO THAT ALL THE CUTTINGS SEEMS 3D).
4.CARD CAN BE ORNAMENTED WITH BEATS AND STARS.
ABOUT ME:
I HAVE BEEN MAKING CARDS FOR 5 YEARS. ITS MY HOBBY. I JUST ENJOY WHILE MAKING CARDS SO THAT YOU CAN GIVE PICTURE TO YOUR IMAGINATION...
NO I DON'T HAVE ANY SITE OR BLOG. IT'S THE FIRST TIME THAT I AM UPLOADING MY CREATION.
* * * * * * *
Hello, Bhawna!
Thank you so much for sharing this beautiful card with us! I'm so honored that you chose my site with your very first time to upload a project.
Your card is truly a labor of love. I love the hearts and the way you made all cuttings seem 3D. I like that you designed the envelope too. Did you personally write the message? Your handwriting is beautiful!!
Your love is very lucky to have you and must have been very happy to receive it!
Thank you for sharing your handmade greeting card with us, Bhawna, and I do hope you'll be back to share more!
All the best,
Rochelle