A Valentine Gift for You
by Kathleen B. Hernandez
(Manila, PHILIPPINES)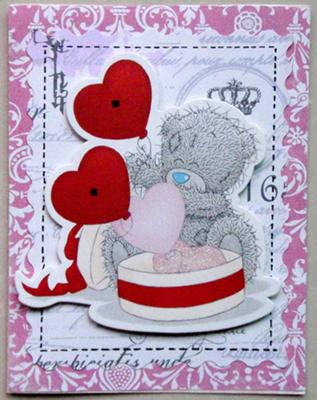 A Valentine Gift for You
Valentine Card Idea
INTRODUCTION:

Once in a while it's so nice to receive gifts from friends and loved ones. It's the feeling of being loved and special by people around you. This Valentine's Day, I'm sure all of you received a little something... may it be a treat, flowers, a token or an expression of love. May we remember not the material things nor the littlest cost but may we be reminded how special those people are who love us.

With this thought, I can't help but share this sweet card where I fell in love with the tatty bear image opening it's Valentine gift. I so wanted to be able to have a Tatty Bear as part of my stuff toy collection but , alas, I guess I have yet to travel and savor Europe to be able to procure one as a souvenir. Thus, it's with joy that I created this card with the Tatty bear image for Valentine's Day.

SUPPLIES:



Cardstock: Star Paper Corp.


Pattern Paper: Echo Park


Pen: Parker


Die Cut Image: Ling Designs


Sketch: PageMaps


TOOLS:
Paper Shapers: Provo Craft
INSTRUCTIONS:


Trim your cardstock into card size.


Adhere pattern paper on the front of your card.


Next, cut with your wave Paper Shapers another pattern paper slightly smaller than the 1st one. And adhere this on center of your card.


Position your Tatty teddy die cut image on center of your card.


Lastly, faux stitch near the edges of your wave cut pattern paper, outlining or highlighting your Tatty teddy image.