A Bunch of ROSEBUDS for YOU
by Kathleen B. Hernandez
(Manila, PHILIPPINES)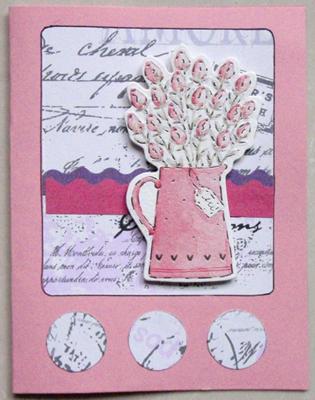 INTRODUCTION:


As Valentine's Day is associated with hearts and roses, my card is of a bunch of pink rosebuds for the said occasion. They would always say that roses are best chosen or picked when they're still rosebuds ready to bloom, not when they're in full bloom and ready to wilt. This would guarantee you more time to enjoy and savor your roses until its petals has fallen and wilted. Oh, how I wish I'd receive a bunch this Valentine's day!
SUPPLIES:


Cardstock: Star Paper Corp.


Pattern Paper: Echo Park


Construction Paper: KYT Manufacturing Inc.


Pen: Parker


Image: Ling Designs


Sketch: PageMaps


TOOLS:
Paper Shapers: Provo Craft
INSTRUCTIONS:


Cut a rectangular sized piece of pattern paper and adhere it on your card. Make sure that the corners of your rectangle are curved.


Cut (3) circles out of the same pattern paper and adhere them on the bottom of your card.


Outline or trace the edges of your rectangular pattern paper with your pen.


On the center of your rectangular pattern paper, position (2) solid colored paper strips cut with your wave Paper Shapers.


Inside the rectangular pattern paper and on top of your (2) solid colored paper strips, position your image. (You may choose any die cut or even a digi image to adhere on this spot.)


Do visit my blog at
Creo by Lady Katutz
Return to In the Mood for Love: Romance Cards Contest 2012.