2 of a Kind
by Kerry
(Navarre, FL , USA)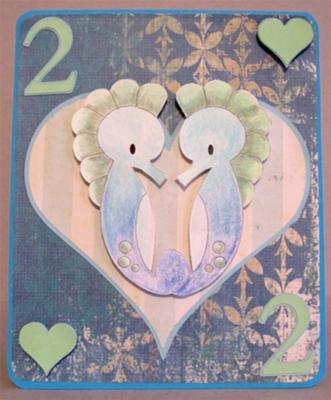 Finished Front
I made this card for my significant other...

Materials:

Blue Cardstock (CS), Designer Papers (DP), Light Blue CS and Light Green CS, Cricut Cartridge: Plantin SchoolBook (for Hearts and Numbers), Tape/Glue Runner and Xyron 5" Sticker maker... Digi My World Seahorse from Sea Life Set... (I duplicated the seahorse, flipped him around and they are facing each other)... You can use whatever colors/images you want...this is just what I used....

Instructions:

Print out or stamp image ... Cut/Fold Blue cardstock into a 5 3/4 " X 4 3/4" rectangle.. Cut DP 5 5/8" x 4 5/8 "...

Using Cricut Cut 1- 3 1/2 " Shadowed Heart from Light Blue cardstock and 1 - 3 1/2" (non- shadowed) Heart from designer paper...

Using Cricut Cut from Light Blue cardstock (using this as my shadow color) Shadowed Cut 2 - 1 1/2" #2's ... 2- 1" Hearts ... 2 - 3/4" Hearts... Using Cricut Cut the Light Green cardstock (non-shadowed): 2 - 1 1/2" #2's... 2 - 1" Hearts ... 2 - 3/4" Hearts...

Glue the Designer Paper onto the cardstock for the base of the card and onto the heart.. Using Xyron Sticker Maker Place the #2's and the Hearts together... Place the Big Heart in the Center of front of card and the #2's to either corner..

Color your image, cut it out and place onto center heart using pop dots... Place smaller of two hearts to either corner.... Decorate the inside and enjoy...

You can see more of my cards on my Blog - Anne's Card Challenges.